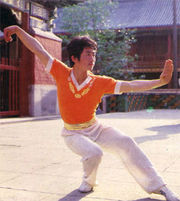 Piguaquan (Traditional Chinese: 劈掛拳, literally "chop-hanging fist", sometimes incorrectly romanized Pi Qua Quan), also known as Piguazhang (劈掛掌, "chop-hanging palm") due to its emphasis on palm techniques, is often practiced along with Bajiquan (八極拳, literally "eight extremes fist") and is a style of wushu (Chinese martial arts) that features explosive, long-range power. It originated in Hebei Province of North China, but today is also well-known in other locales, including Taiwan. Piguaquan's power is from the accelerational force of the arms which are often in rotation. The hip movement in Piguaquan is more subtle and gentle compared to Baijiquan, because you only need enough to guide the big chops whereas in Bajiquan, the hammers, punches, elbows and swings rely completely on the quick and powerful rotation of the hips, and sink to bring its power out.
It is often said that originally, Bajiquan and Piguaquan were the same art but split hundreds of years ago. Li Shuwen (李書文) remarried the two systems in the late 19th to early 20th century and today these two styles are often taught as complementary arts, especially in Taiwan. In fact, there is a Chinese martial arts proverb that goes: "When pigua is added to baji, gods and demons will all be terrified. When baji is added to pigua, heroes will sigh knowing they are no match against it."
Community content is available under
CC-BY-SA
unless otherwise noted.